See the highlights from this week's parish bulletin below.
Also, below are our new Parish & School apparel.
Currently contact  tammylove1068@gmail.com for merchandise options.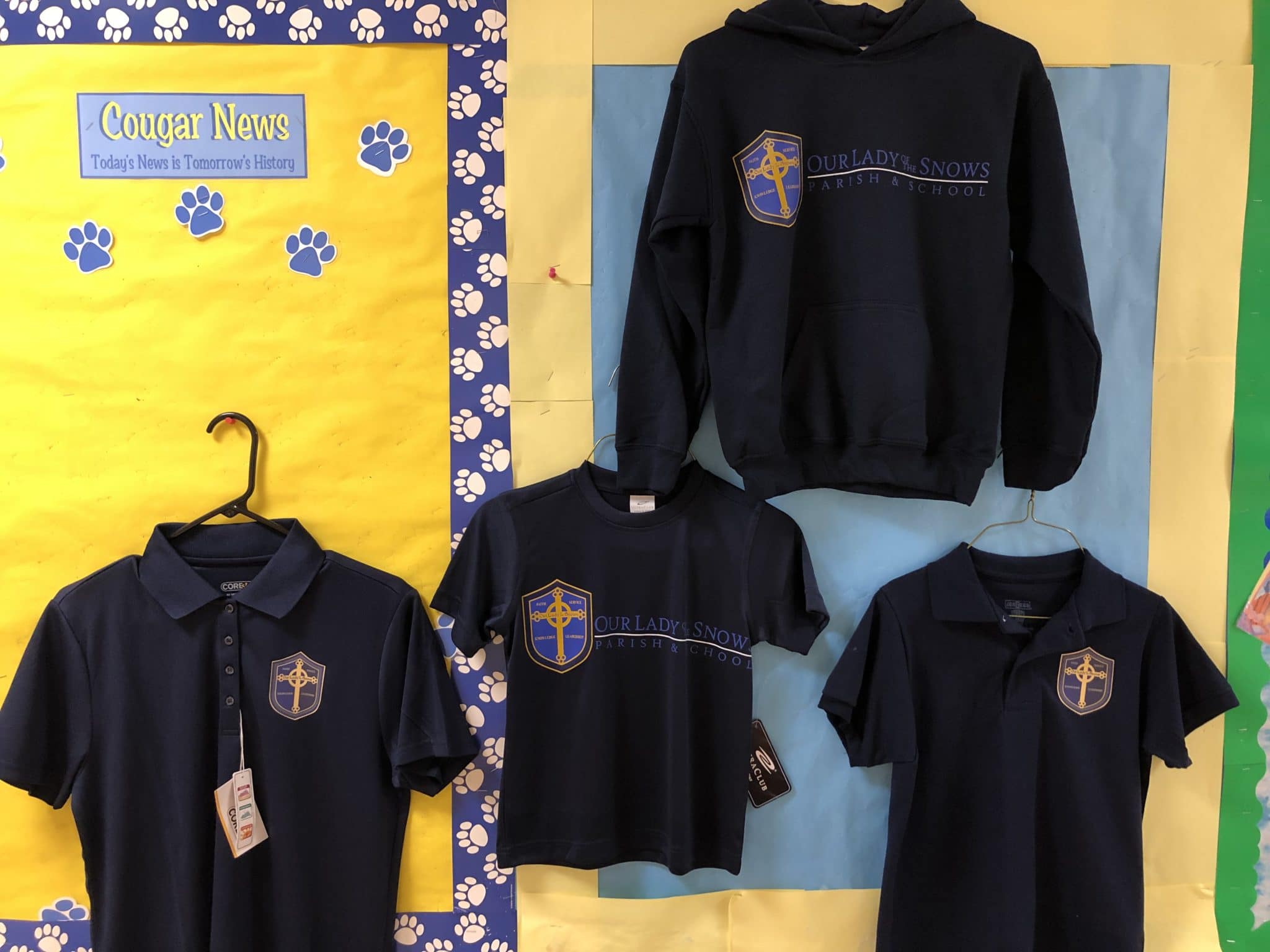 Upcoming events in our parish, other parishes, or in the surrounding area.
Sunday, June 4 - Annunciation Parish, California, Parish Picnic Family Style Dinner, Fried Chicken & Smoked Pork dinners served from 11am - 6pm. Adults $15, Kids 5-12 $5, Under 5 Free. Carry Out available. Flyer
Saturday, June 10 - Spring into Summer Pilgrimage Sponsored by the Women's Ministry Office of the Diocese of Jefferson City. 10am-3:30pm, The Cathedral of St. Joseph, 2305 W Main St, JC. Register at diojeffcity.org/wmjuneregistration $10 fee for luncheon. Flyer
Sunday, June 11 - Parish Picnic IC Parish - Loose Creek, Fried Chicken & German Pot Roast Dinner, Carry Outs @ IC Parish from 11am-7pm and Drive Thru @ LCCC from 12noon-6pm. All dinner plates $15. Flyer
Monday, June 12 - Vitae Foundation is hosting the Louis H. Rackers Family Memorial Pro-Life Golf & Pickleball Tournament at the Jefferson City Country Club, 516 S. Country Club Drive. Spots are filling up quickly! Pickleball is completely sold out, however there are still 3 open Golf Team tee times left, that we would love to fill! Hole & other sponsorships are still available as well. Registration for the golf 4-Person Scramble is $175/Player.  Reservations may be made by contacting John Goedde at john.goedde@vitaefoundation.org or by calling him on his cell at 573-230-4103 to discuss Playing, & sponsoring. Sponsorships can also be made online at https://vitaefoundation.org/team/jc-golf-2023/   Flyer
Saturday, June 17 - St. Francis Xavier, Taos, 2023 Summer Picnic from 3pm-10pm, serving Fried Chicken & Roast Beef Dinner. Adults $15, Ages 6-12 $7, Ages 5 & under free. Flyer
Sunday, July 9 - St. Martin Parish, St. Martin Parish Picnic from 11am -- 6pm, serving Fried Chicken & Roast Beef, cafeteria style. Carry Out dinners available. Adults $15, Children 6-12 $6, Age 5 & under free. Flyer
Thursday, October 26 - Pregnancy Help Center's Annual Banquet 6:30pm-8:30pm at the Capitol Plaza Hotel, Jefferson City.