See the highlights from this week's parish bulletin below.
Also, below are our new Parish & School apparel.
Currently contact  tammylove1068@gmail.com for merchandise options.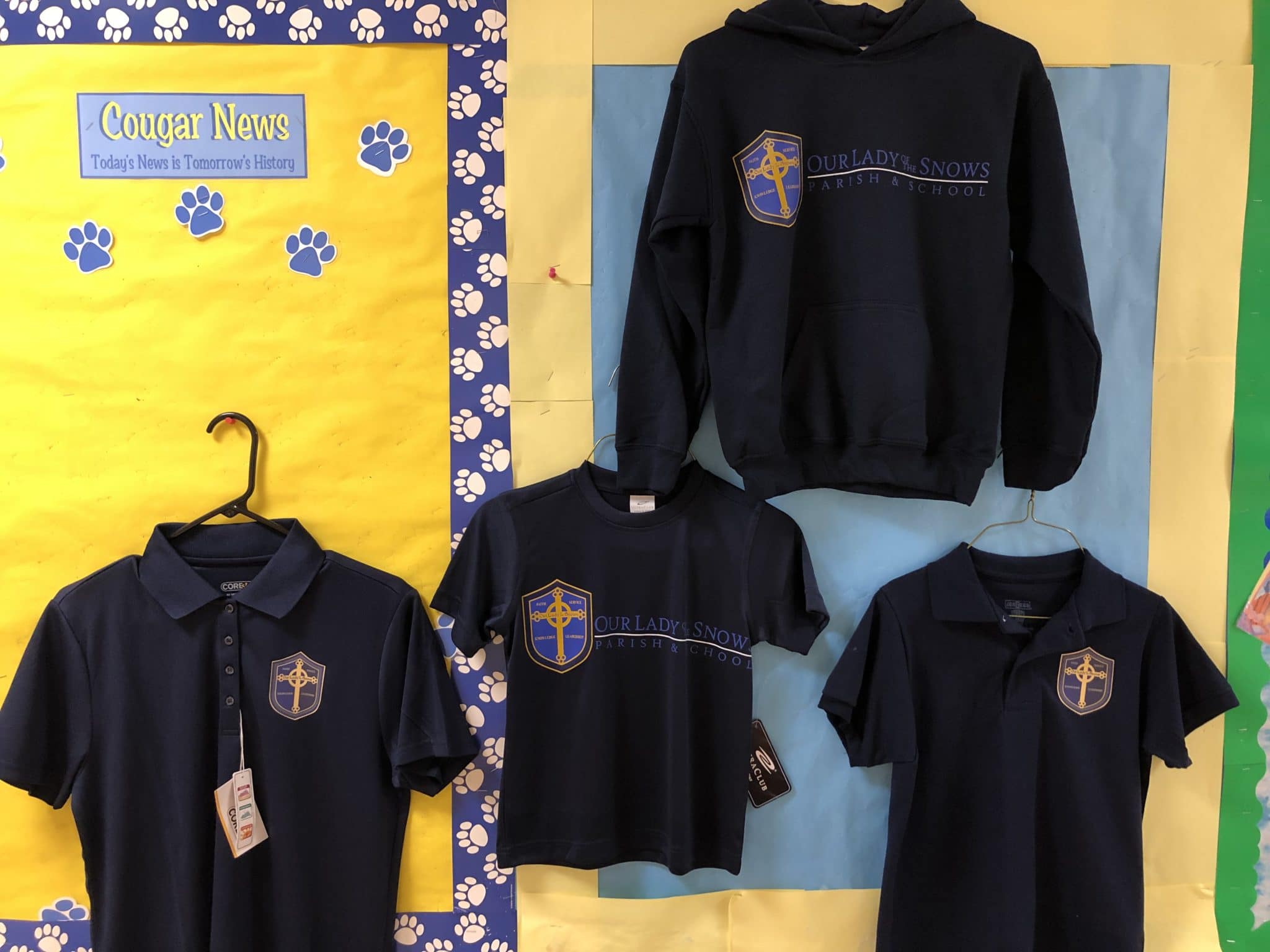 Upcoming events in our parish, other parishes, or in the surrounding area.
OLOS Mary's Home Parish Picnic
Sunday, September 4, 2022
Serving from 11am to 7:30pm. Fried Chicken & (Gluten Free) Roast Beef Dinner. Adults $15, Children (6-12) $7, 5 yrs & under eat free; all you can eat, includes sides, coffee/tea/water, & dessert. Served cafeteria style in the air-conditioned Parish Center with outdoor seating available for carry-out meals. Please no outside drinks or coolers on parish grounds. *Cash & check only*
Sunday, August 14 - Sacred Heart Parish Picnic, Rich Fountain -
Serving from 11:00 AM to 7:00 PM.  Serving All-U-Can-Eat Buffet Style and Carry-Outs. Golden Fried Chicken, German Pot Roast, Mashed Potatoes, Green Beans, Coleslaw, Bread, Dessert, Tea, and Coffee.  Indoor air-conditioned seating.  Also have outdoor picnic table seating. Quilts on display in the church from 11am – 5pm, Auction at 6:00 PM. Kiddie Tractor Pull at 4pm.  Sandwich Stand, Beverage Stand, Country Store, Kettle Corn, Sno-Cones, Raffle, and Games. Adults $15, Kids 5-10 $9, 4 & under Free.
Flyer
&
Quilt Flyer
Saturday, August 20 - Mary's Home Knights of Columbus is hosting the annual golf tournament. If you would like to be a hole sponsor, please contact a Knight member.  The cost is $100. 
Saturday, September 3 - Couples retreat: Love and Life
Love and Life is a one day retreat where couples explore the truth and beauty of marriage and God's plan for it. It will be held Sept. 3, 9 am to 4 pm, at the Chancery in Jefferson City, 2207 W. Main St. Based on Marriage: Love and Life in the Divine Plan by the US bishops, this retreat will help couples renew their bonds through presentations and periods of prayer. It has helped hundreds of couples reconnect and appreciate each other, their relationship, and their marriage. This retreat is open to all couples (married, engaged & unmarried). Registration for this event is required.  Registration details coming soon!!
Flyer
Saturday, September 17 - The National Shrine of Mary, Mother of the Church invites all for a pilgrimage
with speaker Kathleen Lindemann.
Kathleen is an exhilarating and dynamic Catholic evangelist  Taking everyday life situations, she weaves the Joy of the Gospel into a practical application. Kathleen's authentic personal stores are "hilarious and heartfelt". Listeners will learn how to unleash the Gospel in their own lives as Kathleen leads them to realize how they can walk in the light of Christ.  Kathleen will  be speaking on Mary's "Yes" Can Be Our "Yes" too and Unlocking the Virtues To a Joyous Life. The pilgrimage day starts at 8:30 a.m. and includes the two speaker sessions, the Sacrament of Reconciliation, Eucharistic Adoration, Benediction, Rosary and Divine Mercy Chaplet culminating in Mass at 4:30 p.m. Lunch is provided. The Shrine is located at the Lake of the Ozarks, 176 Marian Drive, Laurie, MO 65037. Call 573-374-6279 for more information.
Flyer
Women's Ministries - Bible Studies: Women are invited to two Bible studies, one this fall and one beginning in January 2023. Both are being led by Leigh Tenkku Lepper, a retired professor and member of St. Michael Parish in Russellville, who has facilitated a Bible study for women since January 2020. Both studies are being offered at the parish hall of St. Michael Parish, 13321 Railroad Ave, Russellville, 65074. For more information, contact Ms. Lepper at tenkku@gmail.com or 573-301-1128.
**Women Saints will be held on Tuesday mornings, 8-9 am, from Oct. 4-Nov. 22. There is no fee and no material required for this series. Participants are also invited to attend the 7:30 am liturgy preceding the program.
**Being Catholic and Being Women will be held Jan. 3 through March 28, 8-9 am. We will use the book "We Believe," by Father Oscar Lukefahr, CM, and guest speakers will present their experience in the Catholic Church as women. Please register by Oct. 1 to ensure enough books will be available.
Thursday, November 3: Pregnancy Help Center Annual Banquet from 6:30pm-8:30pm Capitol Plaza Hotel, Jefferson City