See the highlights from this week's parish bulletin below.
Also, below are our new Parish & School apparel.
Currently contact  tammylove1068@gmail.com for merchandise options.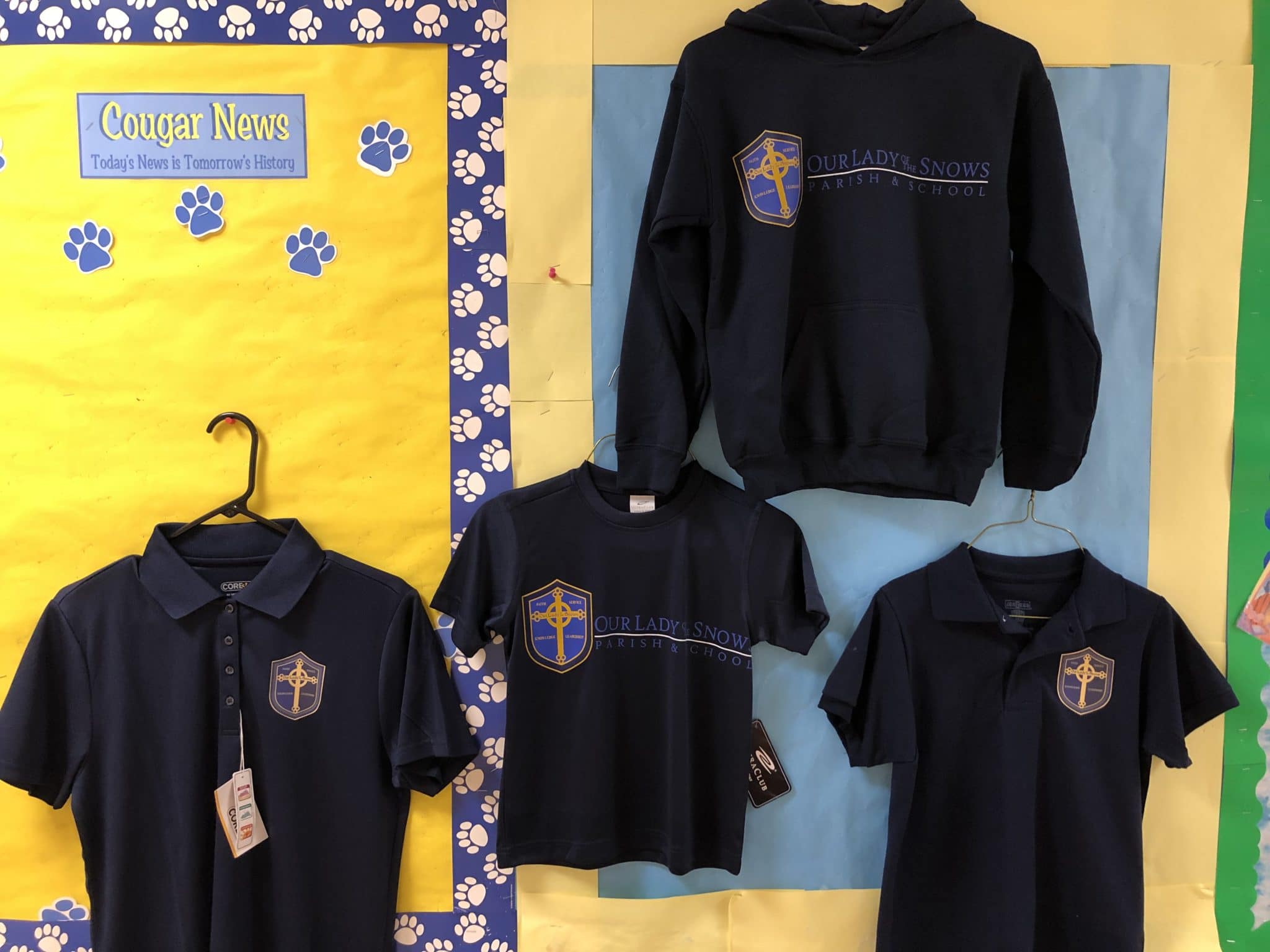 Upcoming events in our parish, other parishes, or in the surrounding area.
Saturday, January 28 - Come see how Helias Catholic High School is building a community of saints and scholars for Christ! Helias Catholic's Open House is from 10am-noon. All are welcome to tour the renovated campus; explore academics and extracurricular opportunities; and meet teachers, staff and students. Open House attendees can enter a drawing to have their enrollment fee waived!
Saturday, January 28 - Partners in Hope presents Dead Man's Saloon - Murder Mystery Dinner at Mary's Home K of C Hall. Doors open at 6pm. Show starts at 6:30pm.  BYOB or $10 bottomless cup. $25 per ticket or $175 per table of 8. Tickets in Advance Only. Flyer
Thursday, February 2 - First Impact is a free program that aims to eliminate motor vehicle fatalities and injuries among teens. It further attempts to reduce teen-involved crashes by increasing parental awareness and enforcement of Missouri's GDL law. First Impact will give a presentation from 6-7:30 p.m. in the Crusader Commons at Helias Catholic High School. All are welcome, especially new and soon-to-be drivers ages 14-19 and their parents. Flyer
Saturday, February 4 - Catholics in the Holy Land: Lectures coming in February - The public is invited to a special Mass and presentation on Feb. 4 at St. Stanislaus Church in Wardsville. Following a 10 a.m. Mass, there will be a lecture by Rami Salfiti regarding the Catholic presence in the Holy Land. Salfiti is a distinguished pilgrimage director and parishioner of the Church of the Holy Sepulchre. All are welcome to attend the Mass and presentation. St. Stanislaus Church is located at 6418 State Highway W.
Sunday, February 5 - Argyle/Koeltztown Volunteer Fire Dept's Annual Pancake, Sausage & Egg Breakfast serving 7:30-11am. Dine-In and Carry Out available. Argyle K of C Hall. $12/Adults & $6 Kids under 12. Flyer
Tuesday, February 14 - The St. Stanislaus/St. Margaret Pro-Life Committee invites all those 50 and over to our VALENTINE's Party from 1-3pm at St. Margaret Parish Hall (upper level). Fun afternoon of Bingo, Snacks & Prizes. No need to RSVP. We hope to see you there. Please let us know if you need transportation. Flyer
Sunday, February 19 - St. Anthony K of C All You Can Eat Breakfast at St. Anthony Parish Hall. 7:30am-11:30am. Serving ham, whole hog sausage, biscuits & gravy, scrambled eggs, and applesauce. Cost $12/Adults, Children 6-12 $6, Children 5 and under free. Dine-in & Carry Outs Available. Raffle will be held-$10 per ticket. Prizes are: Savage 110 Engage Hunter XP 6.5 Creed 22 BBL Bushnell Scope, $100 Cash, $50 Cash, $25 Cash. Flyer
Saturday, February 25 - Our Lady of Snows Parish and School will be hosting Mardi Gras Mouse Races from 6-11 pm in the OLOS School Gym (doors open at 5:30 pm).  The evening will include mouse races, 50/50 drawing, food and LOTS of fun. Tickets will be sold at the door for $5 (no advance tickets will be sold).  Bring plenty of cash for betting, drawings and food. This event is BYOB - must be 21 to attend.  Please share the event information with your family and friends.  Any monetary donations to cover some of the expenses for this event would be appreciated.  We are also looking for business sponsors for each of our 10 races. If you would like to donate, volunteer or sponsor a race please contact Paula Evers (573) 690-6917 or Stacey Evers (573) 338-6112. Flyer
Saturday, March 4 - Partners in Hope presents Let's Go Girls! Prom from 6:30-11pm at Our Lady of the Snows Parish Center, Mary's Home. $30 Admission at the Door. Must be 18 to enter-BYOB. Flyer
Friday, March 17 - St. E Anglers will be having their Annual Fish Fry at the St. Elizabeth Community Center.  Adults and Carry Outs $15, 6-10 $5, Under 5 Free.  Fish, fries, creamy slaw, hush puppies, cornbread, mac and cheese, homemade desserts and drinks.  Serving 4pm - 7pm. 
Saturday, March 25 - OLOS Parish & School Shiloh Dance from 7-11 pm; doors open at 6:30pm. Also, Pizza Kwik will be here in Mary's Home that same day from 12-9pm. They will be set up in the church parking lot near the bank. They are donating a $1 per pizza to the parish/school. Call ahead orders are available (number on menu-see flyer). Flyer
Wednesday, April 12 - Central Missouri Community Action will present the Harlem Wizards basketball show team from 7-9 p.m. at Helias Catholic High School. Enjoy the antics of the Wizards as they interact and compete against the local JCYIMBY (Jefferson City Yes! In My Back Yard) team! This event is designed to raise funds and awareness of the need for affordable housing in Jefferson City. Tickets are available online at the website linked from the QR code. Flyer
SAVE THE DATE! 2023 Mid West March for Life - Wednesday, April 26, 8am-3pm at the Missouri State Capitol South Lawn, 201 W. Capitol Ave. Speakers: Shawn Carney & Lauren Muzyka. Call 573-340-8444 for questions. Flyer