See the highlights from this week's parish bulletin below.
Also, below are our new Parish & School apparel.
Currently contact  tammylove1068@gmail.com for merchandise options.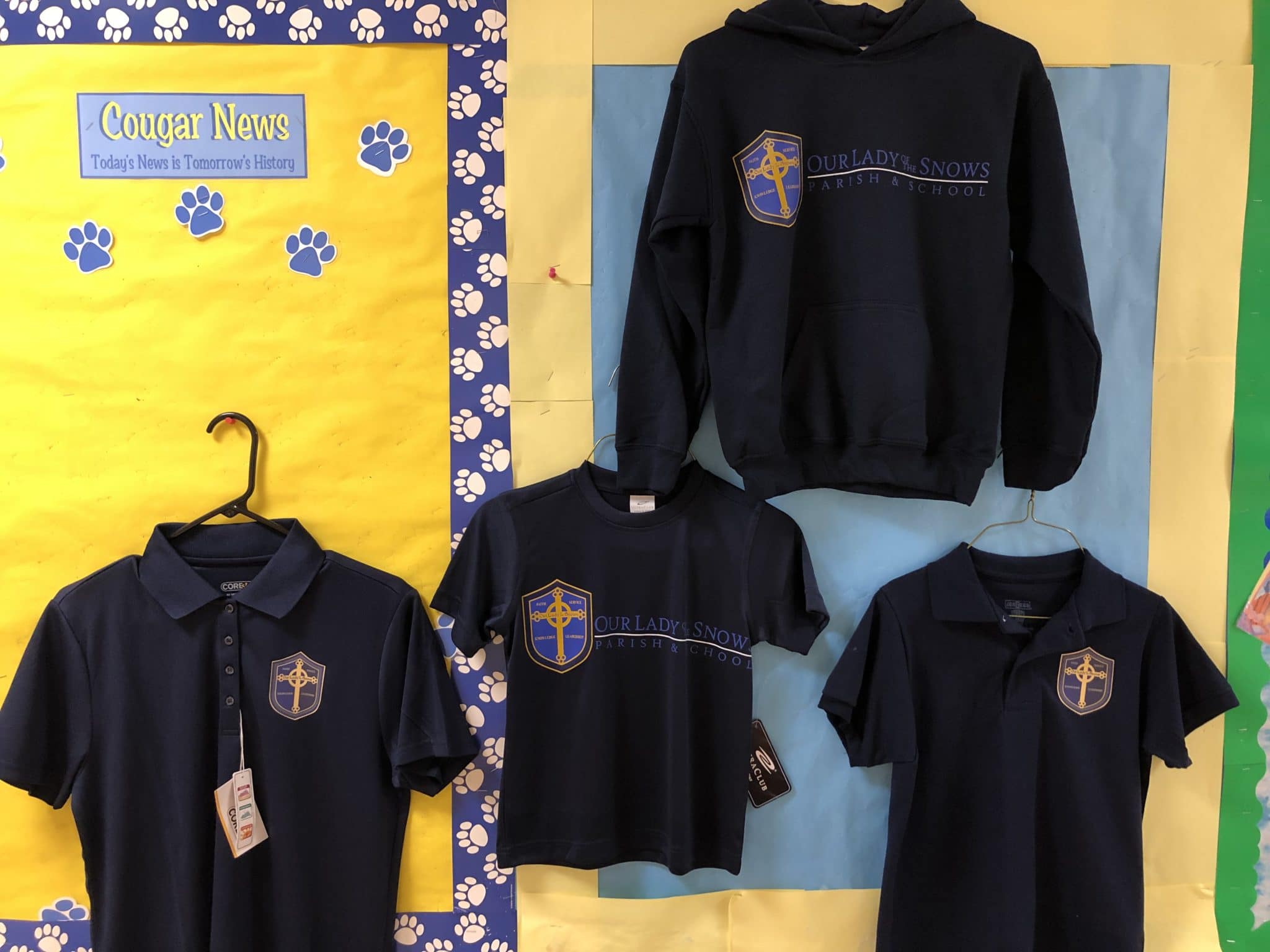 Upcoming events in our parish, other parishes, or in the surrounding area.
-Saturday, September 19 - Wardsville/Osage Bend Knights of Columbus Bar-b-Que. Serving pork steak, chicken, bratwurst, baked beans, cole slaw for $10.00 per plate, slab of ribs $18.00, cinnamon rolls $10.00 from 11:00am - 5:00pm in the St. Stanislaus School Cafeteria. 
-Sunday, September 20 - St. Michael Church, Russellville Drive-Thru Dinner. Serving rope sausage dinners from 11:00am - 6:00pm. Cost $12. Child's meal: Hotdog dinner. Cost $5. 50/50 Raffle. Online Quilt Auction: www.stmichaelauctions.com
-40 Days for Life begins September 23 to November 1, you're invited to join other Christians – 40 days of prayer and fasting for an end to abortion. You're also invited to stand and peacefully pray during a 40-day vigil in the public right-of-way outside Columbia Planned Parenthood, 711 N Providence Rd, and also to help spread the word about this important community outreach. More info or volunteer to help contact Kathy Forck 573-821-5130 or visit www.40daysforlife.com/columbiamo.
-Saturday, September 26 - Mary's Home K of C Tractor Pull - work list 
-Sunday, September 27 - Visitation Parish Fall Festival, Drive Thru & Carry-Out (no dine-in), in Vienna @ the KC Hall. Serving Fresh Whole Hog Sausage, Fried Chicken, Mashed Potatoes & Gravy, Green Beans, Sauerkraut, Coleslaw & Homemade Pie from 11AM to 5:30 PM.  Cost is $12 each or 4 meals for $40.  Country Store, Street Fair & Craft Vendors, Beer Garden/Gin Rickey, Kettle Corn, and Raffle also available.
-Sunday, September 27 - Our Lady, Help of Christians Parish, Frankenstein Fall Festival serving German Pot Roast & all the fixings (drive thru/walk up) from 11am - 5pm. Cost $12.
-Taize Prayer will take place at Our Lady of the Lake Catholic Church, 2411 Bagnell Dam Blvd, Lake Ozark, on Wednesday, September 30, 5-6 p.m.. You may enter through the front doors of the church. We kindly ask that you wear a mask. For more information, please contact the Music Office at Our Lady of the Lake Catholic Church at 573-365-2241.
-Sunday, October 11 - St. Stanislaus, Wardsville Fall Supper: Drive through only. Serving fried chicken, whole hog sausage, real mashed potatoes, green beans and sauerkraut from 11am - 6pm. Cost is $12.00.