Due to COVID-19, all Public Masses will have specific guidelines to follow ordered by the Bishop in his latest Decree. Local health officials will determine the need to practice limits within our church. The Bishop has set guidelines for all parishes to follow and directed/executed by the Pastor. Click on Mass Guidelines below.
See this week's bulletin with information about parish and community events and news. 
Weekend Masses (Summer):
Mother's Day-Labor Day (including)
Saturday:  6:00 p.m.
Sunday:  8:00 a.m. with Confessions 7:30 a.m. & upon request
Weekend Masses (Winter):
Labor Day-Mother's Day (not including) Saturday:  4:00 p.m. with Confessions at 3:30 p.m. & upon request
Sunday:  10:00 a.m. 
Daily Masses:
Monday:
Tuesday:
Wednesday:  8:00 a.m. (School Mass)
Thursday:  8:00 a.m.
Friday:
Totus Tuus 2023 registration forms are now available by clicking HERE or they are available in the back of the Church.
You can send registration form and payment to the parish office or to Debbie Klindt at 33 Hwy 17, Eugene, MO 65032. 
There will be a sign up sheet for those that would like to donate snacks, make meals for team lunch and supper, and volunteer to help during the day or evening.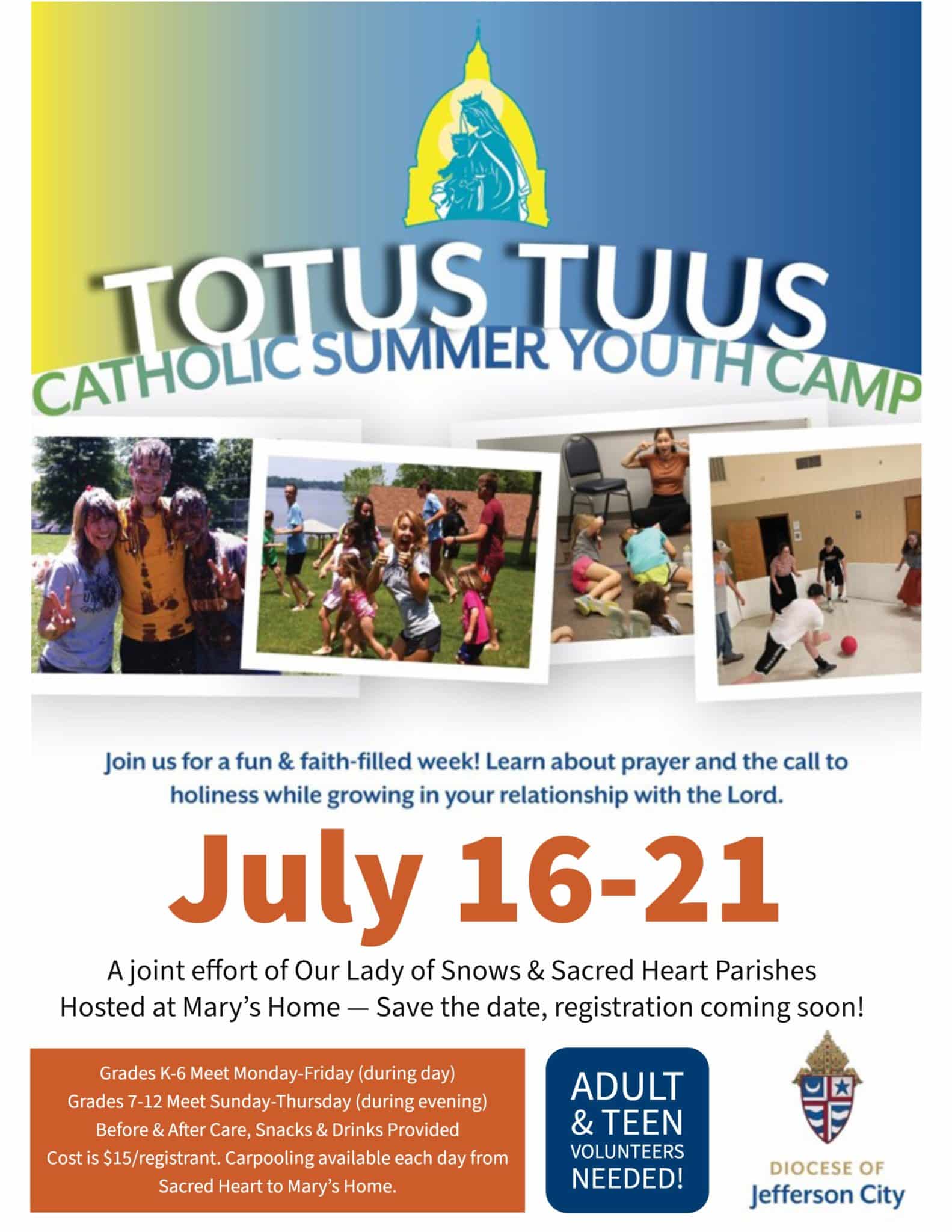 Find things to do across the diocese with the Diocesan Events Calendar
Parishes and Catholic organizations across the diocese can submit events to the Diocesan Events Calendar. This calendar is full of things to do across the 38 counties our parishes reside in.
A time of rebirth, renewal and rededication to our church and faith Thank you to everyone who joined us for the rededication of the Cathedral of St. Joseph! It was…
Read More
As pilgrims on a journey, we are guided by the Holy Spirit to know and serve the Lord, by reaching out to others in love and service. Our parish offers these resources to parishioners to enrich their spiritual life, enhance their knowledge and form them as missionary disciples.